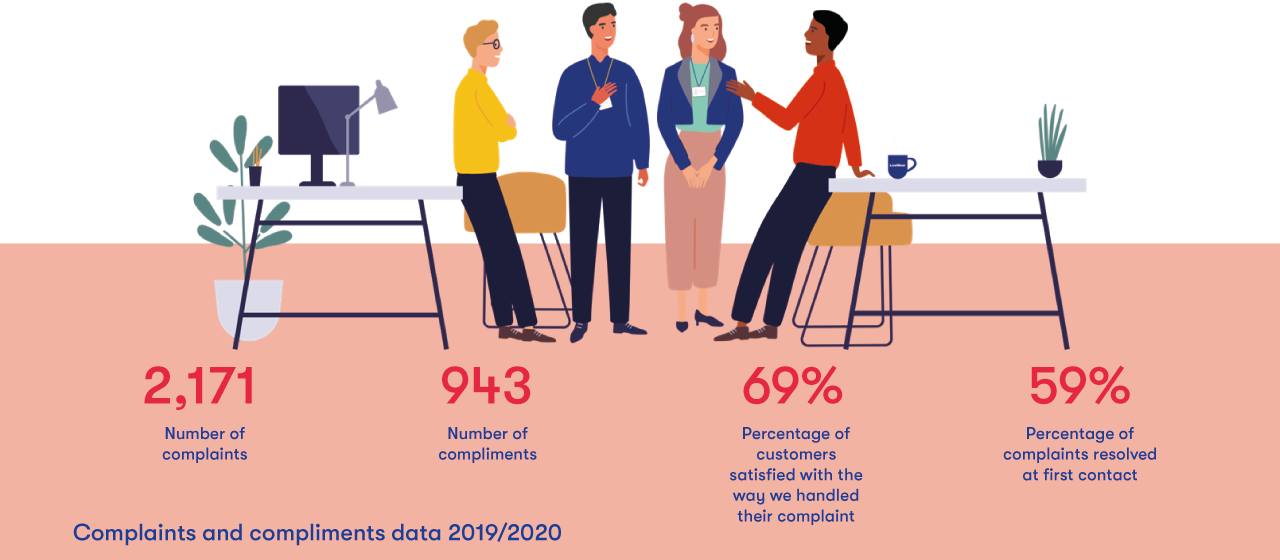 Your feedback helps us to learn and improve our services, as well as understand your views and get things right the first time.
We produce this report every year to keep you informed about the feedback you have given us and the what we are doing to improve our customer service.
We need to
Be clearer about what we will do and what you need to do

What we're doing
We are improving our website so that you can access information online more easily, including more specific information about your home and community
We are uploading our policies onto the website and will provide you with a copy on request
We are producing videos to explain what we do, including the role of a Housing Officer and advice about Anti Social Behaviour
We need to
Provide regular updates on the progress of issues

What we're doing
We are launching a new fully integrated IT system that allows communication updates to be scheduled, helping our colleagues to know who they need to contact and when
Delivering Customer Service training to all front-line colleagues
Upgrading our online "My Account" to allow you to track the status of current repairs and issues
We need to
Diagnose faults correctly and fix things quickly

What we're doing
We have introduced a specialist company who will investigate damp and mould concerns in your home
We have started using digital technology that uses mobile phone cameras, allowing us to see the issue and agree what work needs to be done
We are re-tendering for our Out of Hours contract so that services are the same for everyone
We are developing a series of self-help videos so that you can carry out minor repairs safely, if you choose to
We need to
Keep to agreed times for appointments

What we're doing
We are looking at introducing digital technology that may reduce the number of times we need to visit you at your home
We've introduced digital sign ups for customers moving into a new home
We are developing our website to allow you to book an appointment slot for repairs
We need to
Make it easier for you to talk to us What we're doing
We will introduce live chat via the website so that you can contact us easily
We've introduced a communication tool for customers who are hard of hearing and use sign language to contact us via their phone
Our duty officers are available during normal working hours and are there to provide advice and support when your normal contact is not available
We are committed to providing numerous ways for you to contact us – by phone, email, website and social media
We want to hear from you
We welcome feedback from our customers as this gives us the chance to improve our services. So whether you have a complaint, compliment or some other feedback you would like to share with us we would like to hear from you.
If you require any further information relating to our customer feedback policy, please contact our Service Improvement team on 0300 123 8080.