Here at LiveWest we take our responsibilities for Fire Safety very seriously. We put in place policies and procedures for our staff and contractors to keep everyone safe.
We carry out regular inspections of communal areas in blocks of flats as well as ensuring all fire safety equipment is maintained appropriately.
We have a partnership with Cornwall Fire and Rescue, who can provide advice that is relevant regardless of where your home is, and we work closely with other fire services to ensure our buildings are as safe as they can be.
But you can play your part too.
It is important that anyone who lives in or visits your home knows what actions to take in an emergency.
This might be how to get out of the property should an incident occur, where keys are to unlock doors or windows or teaching children what the alarm sounds like and what they should do, perhaps even teaching them the importance of the 999 service and how to use it.
Image
It is also important to make sure any smoke detection fitted in your home is working. We recommend you do this at least monthly. This can be done on most smoke alarms by pressing a test button on the unit and ensuring this sets off the alarm, to make sure you are safe when doing this it can be done using a broom handle or similar, please do not climb on a chair or other furniture to reach as you may fall and hurt yourself. If you have a telecare service, then often the alarms will be linked to this and it is important that you tell them that it is a test when they come through after the activation. If you live in a home where the only detectors are linked to the fire alarm panel, this will be carried out annually by our fire servicing contractor.
It is against the law to tamper with fire safety equipment, this includes fire alarms, fire extinguishers and opening vents but also fire doors.

If you live in a space with communal areas, find out more here about keeping communal areas safe.

Please click on the links below to see information provided LiveWest and the fire services that work across our operational areas.

Image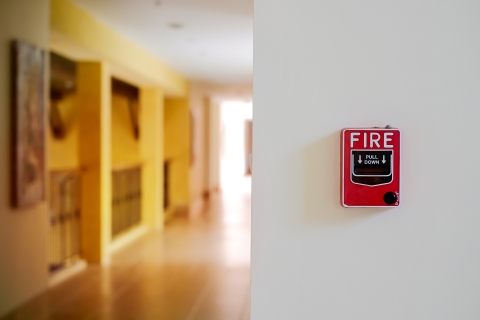 Have a question?
Find answers to frequently asked safety related questions
Image