With lockdown putting a strain on people's finances, we have helped customers in crisis by issuing more than 500 Crisis and Hardship grants to households. across the South West.
We have also provided nearly £30,000 in funding across 46 community group in the region, including supporting over 26 foodbanks, community response projects, organisations providing ready meals and other community support initiatives.
We recognise the challenges our customers are facing by providing a range of support including a dedicated Tenancy Sustainment team and access to emergency funding for households through our Crisis and Hardship Grant Fund.
The aim of our emergency grants is to provide support for people who are in a crisis situation or struggling. It could be the result of increased living costs, one off costs, or a change in employment.
Our Grants Manager, Tim Wotton, said: "LiveWest has made over 14,000 welfare calls and been in regular contact with its customers, which means we are able to identify people in need of assistance.
"But we have also seen a 10-fold increase in the numbers of people who are contacting us direct asking for help."
Up until the middle of July, we issued £81,069 across 509 grants to individuals. The breakdown saw 322 grants given for food and utilities, 10 for furniture, 37 for social and digital inclusion, 94 for household items and 46 for other needs.
In addition to food and one-off costs, we have seen a number of applications for support from its older customers who need IT equipment to stay in touch with friends and family during lockdown.
Tim Wotton added: "I have been taken aback by the number of applications that have come in since lockdown and I am extremely proud of the way the organisation has come together to deliver support to those who need it most.
"We have been dealing with 10 times the volume that we normally expect.
"There is a lot of unseen hardship out there and people are really struggling.
"Every one of those 500 grants are not just about one person, but a whole household in need of help.
"What we can provide is small but addresses a specific need and helps people get back on their feet."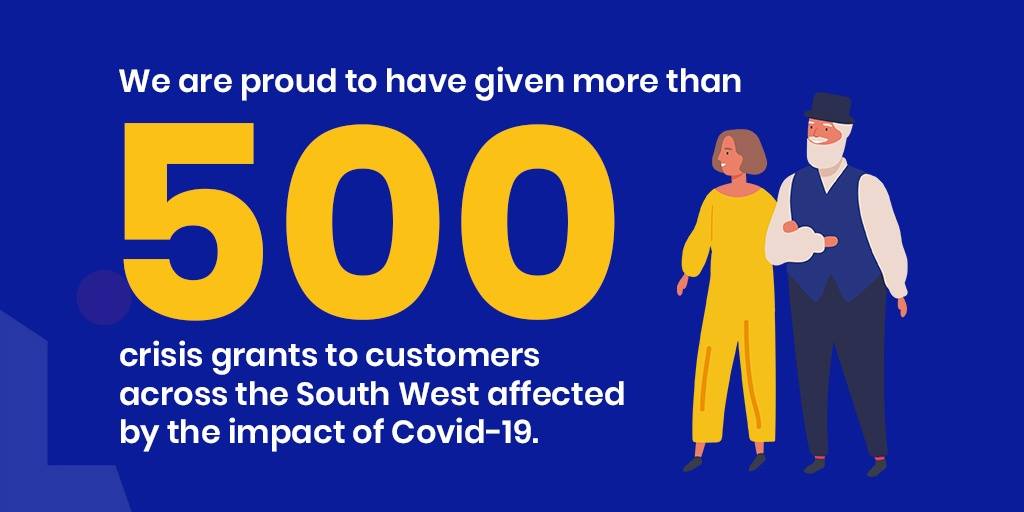 One of our customers is a single parent of three children under the ages of five who has been struggling financially.
She was given £150 of shopping vouchers to buy essential food.
The customer said: "I have found the lockdown experience similar to a rollercoaster - lots of ups but some downs too. But then again, that's just life isn't it?
"I am also so very grateful to have my house as our home which has a private, secure back garden which means everything.
"The help and support from LiveWest have been truly invaluable. It has been a huge relief to have help with my shopping.
"I feel as a company they have really gone above and beyond, you have stepped up when you didn't have to of course.
"It has really restored my faith in humanity."
Another customer applied for one of our grants to replace a broken freezer and said: "I just wanted to say thank you again for arranging our new freezer. It was delivered on Saturday and they took the old one away.
"You have really helped me and my family out and we can't thank you enough."
Our Grants Officer, Lisa Baxter, said: "It's wonderful to see how many customers have received support from our grants during the past four months, which has been an extremely busy period.
"We have received some lovely messages of thanks from those who have received a grant and to hear what a difference this has made to people's lives makes all the difference.
"I feel privileged to work for an organisation who supports their customers in this way."
Helen Thomas, who is also one of our Grants Officers, added: "We have received some really touching thank you emails from our customers telling us how the grants have helped them.

"I have been most struck by the impact of our grants on families that have normally been able to get by without any problem, but have been seriously impacted by furloughing or the loss of employment.
"Some of our grants have been for vulnerable or elderly customers who have not been able to access their usual sources of support, and it has also been more difficult to procure items or services to meet their needs during lockdown."
For more information, please visit our grants page.