LiveWest has been working with local communities across Callington, Harrowbarrow, St Ann's Chapel, Gunnislake and Calstock, offering free food donations to residents to help reduce food waste and stop unnecessary landfill.
We are supporting the Tamar Valley Community Food (TVCF) organisation which has opened a new community fridge (open seven-days a week) outside the Coop in Drakewalls, as part of a project that collects surplus food and gives it away for free. 
Mai Evans, our Community Connector, said: "It's been a rewarding and satisfying few months running a mobile community fridge which was great for promoting the ethos of the project, and to recruit volunteers to help.  
"It's been great to recruit local volunteers who are on rotas to make sure the stock is replenished and it's been incredibly busy since we started in April, with masses of fruit, veg, tinned food and eggs being gratefully distributed in the community.
"The unique location is directly behind the local Coop shop, which is the best possible place in the valley for this facility. 
"Although Coop has nationally funded hundreds of community fridges through its partnership with Hubbub, we believe this is the first fridge for Coop to have on one of its sites. Store Manager, Barbara Worth, has been really supportive as have the rest of the staff there."
The fridge unit was funded by LiveWest in partnership with Jewson and contractor, Phil Strout Contractor (PSC), provided the wooden housing.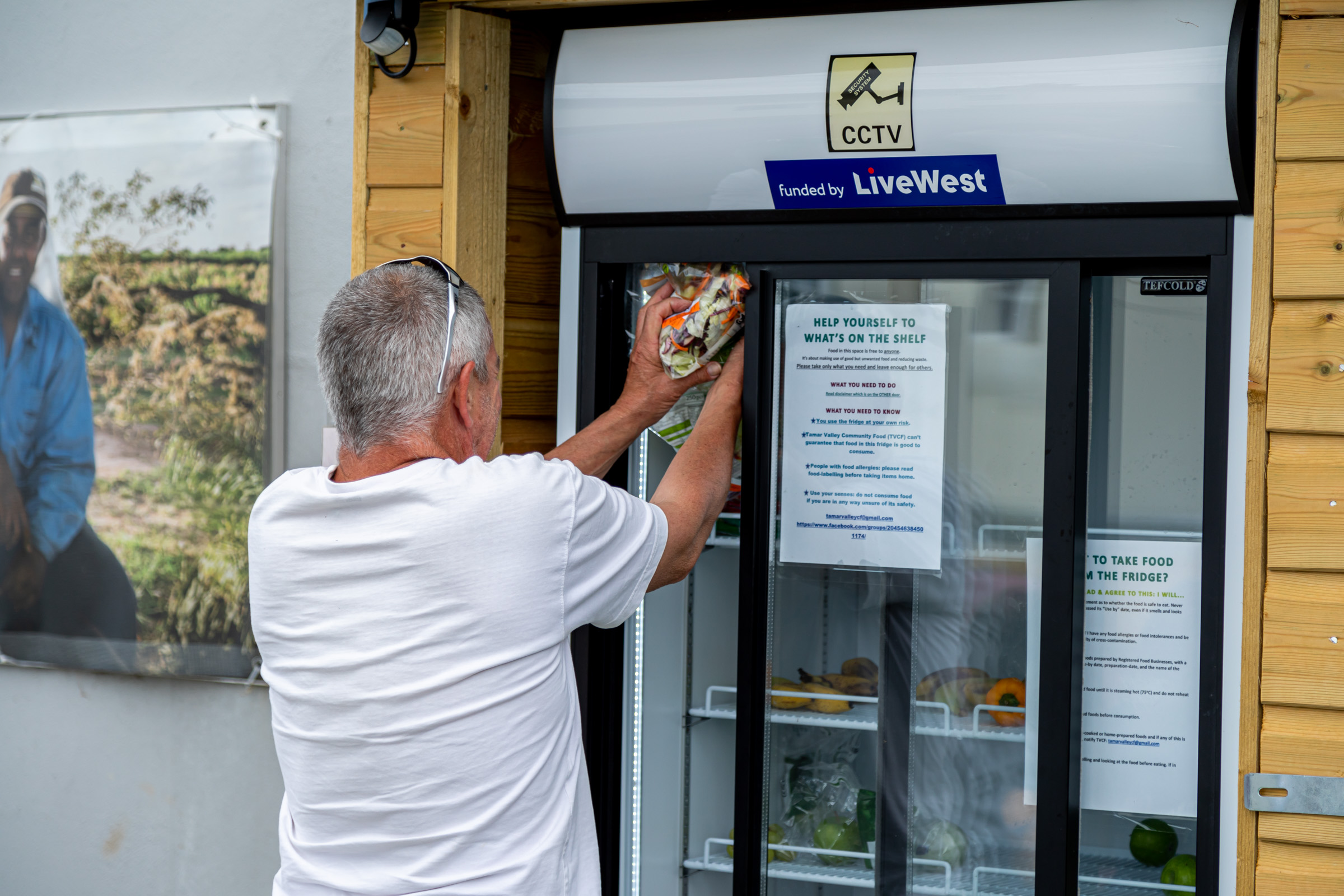 Hannah, our resident and community fridge volunteer, said: "It is amazing how one community can pull together and make a difference, just glad I could give back into my community. Thanks so much to Mai and LiveWest for getting me involved."
Barbara Worth, Store Manager at Coop Drakewalls, said: "The community fridge has been brilliant in tackling food waste at the Coop in Drakewalls. Our local pre-school and food share partner has also benefitted from the initiative. 
"Nationally, Coop`s goal is for all stores to create food share partners. End of day food retail waste is now benefiting local communities. With the cost of living rising uncontrollably, this initiative allows local businesses to work with the community in providing a solution."
Cornwall Gleaning Network has also recruited local farmers and volunteers to regularly supply Tamar Valley Community Fridge with fresh vegetables. 
Crops that are not suitable for retailers are harvested by volunteers, so they don't end up in landfill.
Mai added: "We generally receive a wide range of items. Our donations are varied but the hope is that people will take advantage of the free food and find new ways of using ingredients and experimenting with different seasonal vegetables. 
"Although we are giving through the community fridge, it is not like a food bank. We are working closely with Callington Food Bank, and our aim is to reduce unnecessary food waste whilst supporting people whose incomes are stretched."
With nearly 200 people a week benefitting from the community fridge, currently there is the need for more volunteers to help co-ordinate donations. 
To get involved in the project, you can contact Mai Evans, our Community Connector, by email at: mai.evans@livewest.co.uk or the Tamar Valley Community Fridge by email at: tamarvalleycf@gmail.com