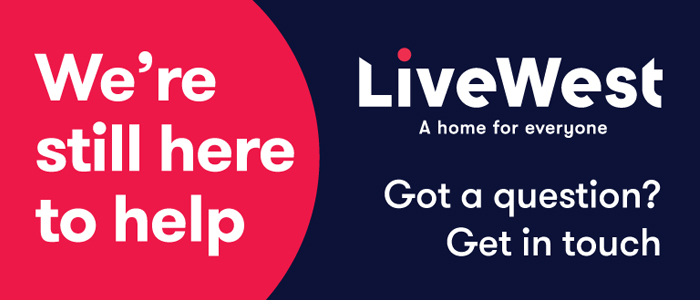 ​
Can I still purchase a LiveWest home?
We understand that purchasing a new home or getting onto the property ladder is an exciting time that can make a real difference to the lives of our customers. For this reason, our new home applications remain open, and we will endeavour to help all customers find their dream home, even at this uncertain time.
Virtual Viewings
We are able to provide customers virtual viewings for many of our current available new homes which are ready to move into in the first instance. You can arrange a virtual viewing with one of our team, where you will benefit from a full virtual experience of viewing the home via video, find out all about the home, development and how to proceed with buying a shared ownership home and getting your foot on the ladder. Then, if you're offered a property, we can arrange a viewing appointment at the property, following our social distancing measures and procedure.

You can view all of our shared ownership homes here.
Contact our sales team via email, Skype, or phone call to talk through any questions.
What happens if I am in the middle of purchasing a property?
I've already got a mortgage in principle (MIP) or mortgage offer:
Most lenders are still proceeding with agreed lending, so if you already have a mortgage offer in place then this will not be withdrawn. Many mortgage offers are also being extended where necessary, and existing mortgage applications already made, in most cases will continue. Your specific mortgage terms however will depend on the lender you are with at either application or mortgage offer stage. In order to confirm the current status of your application, please contact your financial advisor or mortgage lender.
I'm still waiting for my mortgage valuation:
If you have not yet had a mortgage valuation for the property you are purchasing, the vast majority of these are now going ahead, with lenders currently working through the backlog of valuations that were previously on hold. Most valuers are now able to get to site to visit the property whilst taking extra precautions and working safely. Some lenders are also continuing to carry out desktop valuations for properties not yet completed in readiness for mortgage offers and purchase completions.
How is mortgage lending being affected by Covid-19?
During lockdown, the UK mortgage market underwent a partial lockdown in lending to new customers or offering to those with small deposits. However, as of 24th July 2020, the government has announced temporary increase to the stamp duty threshold to £500,000 until 31st March 2021. This means those looking to buy or move house in England and Nortern Ireland, won't need to pay stamp duty on the first £500,000 of the property value.
Will I still be able to obtain a mortgage?
Some lenders are now offering mortgages at a lower loan to value for the time being, which may suit current homeowners looking to sell who have equity in their current property, or those with larger deposits. However, in recent weeks, we have seen lenders such as Halifax and Nationwide returning to 85% loan-to-value ratio (LTV) for home movers including first time buyers which is great news for our new customers.
If this doesn't suit you, please be rest assured that both mortgage and financial advisors are still working to find customers the best mortgage deals with what is available, and although some lenders will be partially reducing their services, there will still be products on offer that can meet different lending requirements and deposit amounts.
We can provide a list of mortgage advisors who will be happy to help you navigate through the list of available lenders and mortgage products on offer at this time. Call our team today to find out more on 01752 856 037 or email newhomes@livewest.co.uk.
If you have any questions, please contact us. We're here to help.